We want to hear your stories about health equity!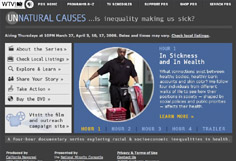 UNNATURAL CAUSES is about people and communities creating better chances for health and well-being by improving access to resources and opportunities.
We've created a space for PBS television viewers and the general public to share stories about health threats and obstacles they face, tools and strategies they've developed and promising policy and advocacy initiatives that are underway.
To read viewer stories or submit your own, visit the "Share Your Story" feature at the PBS broadcast site for UNNATURAL CAUSES.