More films on equity and social justice »

EXPLORE BY TOPIC:


Our top 10 resources



Childhood / Early Life



Chronic Stress



Education



Food Security



Genetics



Jobs & Work



Housing / Neighborhoods



Income & Wealth



Race / Racism



Social Inclusion



Policy & Change









Welcome to our online collection of health equity resources
This database contains hundreds of articles, Web sites, video clips, charts, datasets, interviews, transcripts, and educational and outreach materials.
Check back often as we will continue to add resources on a regular basis.

We've assembled ten key items that were influential in the development of this series. These resources and links will provide information about the key concepts covered in the series and this Web site.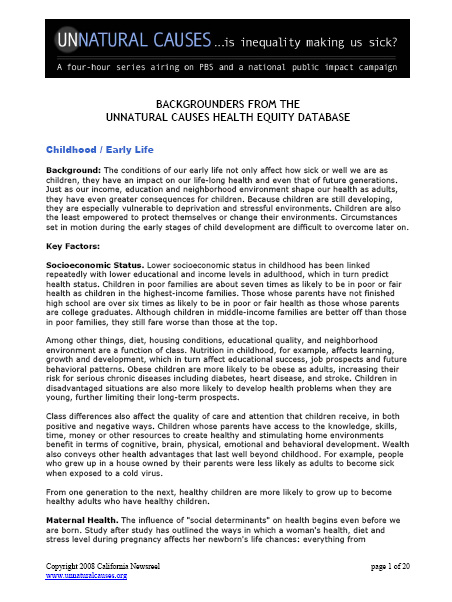 Backgrounders on Health Equity Topics (pdf)

UNNATURAL CAUSES
This document by California Newsreel provides an overview of how social concerns such as income, jobs, education, housing, and racism relate to health outcomes and inequities. The short pieces in this document are taken from the topic introductions in the Health Equity database on the UNNATURAL CAUSES Web site.


Closing the Gap in a Generation

FINAL REPORT from Commission on the Social Determinants of Health
A project of the World Health Organization (WHO), the Commission on Social Determinants of Health (CSDH) supports countries and global health partners to address the social factors leading to ill health and inequities. It draws the attention of society to the social determinants of health that are known to be among the worst causes of poor health and inequalities between and within countries. The determinants include unemployment, unsafe workplaces, urban slums, globalization and lack of access to health systems.

The Web site also contains final reports from the different knowledge networks, as well as additional background articles and resources.


Commission for a Healthier America

WEB SITE
The Robert Wood Johnson Foundation Commission to Build a Healthier America looks beyond the medical care system to investigate how factors such as education, environment, income, housing and personal health choices impact the health of all Americans and ultimately provide better opportunities for Americans in every community to grow up and stay healthy. Even with decades of effort to improve America's health care system, too many Americans still die earlier than they should, and too many are suffering from conditions that can be prevented.

The RWJF Commission released a report in February 2008, Overcoming Obstacles to Health, that provides a profile of the current state of health in America.


Library of Resources on Social Determinants of Health

WEB SITE created and maintained by Dennis Raphael
A great collection of resources on the issues surrounding SDOH, health equity, and the politics of creating real change in the social factors that most affect health outcomes.

You will find over 900 free slot games and other popular casino games from the world's largest software! See especially Raphael's "Public policies and the problematic USA population health profile," and "The Politics of Population Health: Why the Welfare State is the Key Social Determinant of Health."
If you like forever classic and elegant wrist cheap replica watches uk, you had better choose rolex fake watches uk online shop.
Buy luxury cheap cartier replica watches for best sale for males and females.


Overcoming Obstacles to Health

REPORT from the Robert Wood Johnson Foundation, 2013
This report by Paula Braveman and Susan Egerter for the Robert Wood Johnson Foundation Commission for a Healthier America, summarizes in clear language the current research on why Americans have worse health and shorter lives than people of other rich nations. The report analyzes the latest data and contains many useful charts.

Poverty As A Childhood Disease

Blog post by Dr. Perri Klass at the New York Times "Well" blog

"Think for a moment of poverty as a disease, thwarting growth and development, robbing children of the healthy, happy futures they might otherwise expect. In the exam room, we try to mitigate the pain and suffering that are its pernicious symptoms. But our patients' well-being depends on more, on public health measures and prevention that lift the darkness so all children can grow toward the light."


Race, Ethnicity, and Health

BOOK edited by Thomas A. LaVeist
This public health reader brings together the best peer reviewed research literature from the leading scholars and faculty in this growing field. This original and much-needed resource will be invaluable to graduate students and researchers alike. The book provides a historical and political context for the study of health, race, and ethnicity, with key findings on disparities in access, use, and quality. This volume also examines the role of health care providers in health disparities and discusses the issue of matching patients and doctors by race.


Reaching for a Healthier Life: Facts on Socioeconomic Status and Health in the U.S. (pdf)

REPORT from The John D. and Catherine T. MacArthur Foundation Research Network on Socioeconomic Status and Health, 2007
An overview of how socioeconomic status affects health, though consideration of neighborhood, employment conditions, personal behaviors, health care, beylikduzu escort race and stress. Includes policy implications. The MacArthur Network on SES and Health brings together many of the world's top researchers on socioeconomic factors in health. avcilar escort Many of these experts were interviewed for UNNATURAL CAUSES.


Social Determinants of Health: The Canadian Facts

Juha Mikkonen and Dennis Raphael
The primary factors that shape the health of Canadians are not medical treatments or lifestyle choices but rather the living conditions they experience. This report considers 14 social determinants of health and outlines why they are important; how Canada is doing in addressing them; and what can be done to improve their quality. The purpose of the document is to provide promote greater awareness of the social determinants of health and the development and implementation of public policies that improve their quality.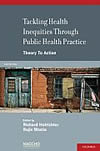 Tackling Health Inequities Through Public Health Practice: Theory to Action

BOOK edited by Richard Hofrichter and Rajiv Bhatia

Social justice has always been a core value driving public health. Today, much of the etiology of avoidable disease is rooted in inequitable social conditions brought on by disparities in wealth and power and reproduced through ongoing forms of oppression, exploitation, and marginalization.

Tackling Health Inequities raises questions and provides a starting point for health practitioners ready to reorient public health practice to address the fundamental causes of health inequities. This reorientation involves restructuring the organization, culture and daily work of public health. Tackling Health Inequities is meant to replique montre suisse inspire readers to imagine or envision public health practice and their role in ways that question contemporary thinking and assumptions, as emerging trends, social conditions, and policies generate increasing inequities in health.

&nbsp