Building Healthy Communities from the Ground Up: Environmental Justice in California (pdf)

REPORT by the Asian Pacic Environmental Network et al., September 2003
A report on the landscape of statewide conditions as well as opportunities and challenges for building grassroots power and influence at the state level, using the framework of social justice. The report is designed to inform legislators and policymakers of the history of neglect and inadequate enforcement of environmental protections in California, and to identify policy, legislative, program, and investment gaps, and as a reference document to support direct organizing efforts and coalition-building. The reports contains recommendations and strategies for improving environmental justice in the state.


Examining the Impact of Food Deserts on Public Health in Chicago (pdf)

REPORT by Mari Gallagher Research & Consulting Group for the LaSalle Bank, 2006

This report looks at the effects of "food deserts" (areas with minimal access to grocery stores) on the health of residents in Chicago's neighborhoods. The study develops an empirical score to quantify the balance of food choice (groceries vs. fast food outlets) available to residents, and compares food access and food balance directly to health outcomes, holding constant education, income, and race. They find that African American communities are especially likely to have poor balance of food choice, and that residents of these "food deserts" suffer noticable health effects.


Fair Growth 2020: A Tale of Four Futures

ARTICLE by Lance Freeman, House Facts & Findings, 2000
What will America look like in 2020, given the steady decline of our central cities and our unchecked suburban expansion? In this 2000 article, author Lance Freeman looks at four possible scenarios for the future, and their implications for urban sprawl and social equity.


Healthy Development Measuring Tool

WEB SITE
Developed by the San Francisco Department of Public Health, this tool is a comprehensive evaluation metric to consider health needs in urban development plans and projects. The Tool encompasses a community-based vision for planning and uses public health to explicitly connect physical and environmental planning to a wider set of social interests.


Hidden Wounds of Violence (PDF)

NEWS ARTICLE, Chicago Tribune, April 28, 2008
A clear and compelling article about the "secondary" negative health effects that violence has on children.


Infill Development, Housing Costs, and Public Health (pdf)

EDITORIAL by Rajiv Bhatia, Director of the San Francisco Department of Public Health's Occupational and Environmental Health Section
While acknowledging the great potentials of infill development to curb sprawl and revitalize city centers, Bhatia calls attention to the great need for decision-makers to consider the needs of existing residents. Among other things, he recommends a Health Impact Assessment (HIA) for affected communities during the planning process.


International Making Cities Livable

WEB SITE
The International Making Cities Livable Conferences were founded in 1985, and are held biannually in the United States and Europe. They are unique in enabling city officials, architects, planners, developers, community leaders, behavioral scientists, artists and others responsible for the livability of their cities to exchange experiences, ideas and expertise.



Louisville's Rubbertown Neighborhood Fights against Toxic Emissions

WEB-EXCLUSIVE VIDEO, Unnatural Causes

Eboni Cochran and her neighbors in Louisville have organized to demand that chemical companies in their area do a better job of monitoring and containing hazardous materials that seep into the soil and air. Across the country, polluting industries are concentrated in communities where the poor and people of color live.


Moving upstream: Working together to create healthier communities

DVD and REPORT, Blue Cross and Blue Shield of Minnesota Foundation
In 2006, the Blue Cross and Blue Shield Foundation hosted a statewide policy forum on social determinants of health. Minnesota leaders in health, housing, early childhood development, environment, government, nonprofit and philanthropy gathered to discuss how these different sectors can work together to improve community health. Nationally acclaimed speakers - including UNNATURAL CAUSES featured scholars Ichiro Kawachi, Camara Jones, and Jim Krieger - shared research and ideas for focusing efforts "upstream," on social, economic and environmental factors that influence health.

The 3-DVD set and/or print materials on the proceedings are available to organizations free of charge.


Opportunity Mapping

RESEARCH TOOL from the Kirwan Institute
Opportunity mapping is a research tool used to understand the dynamics of "opportunity" within metropolitan areas. The purpose of opportunity mapping is to illustrate where opportunity rich communities exist (and assess who has access to these communities) and to understand what needs to be remedied in opportunity poor communities. Opportunity mapping builds upon the rich history of using neighborhood based information and mapping to understand the challenges impacting our neighborhoods. Currently, the site explains the concept behind opportunity mapping and provides examples. They will soon launch a blog and resource Web site for individuals and organizations using neighborhood based information systems.


Racial Residential Segregation: A Fundamental Cause of Racial Disparities in Health (pdf)

SCHOLARLY ARTICLE by David R. Williams and Chiquita Collins, Public Health Reports, 2001
The authors review evidence that suggests that segregation is a primary cause of racial differences in socioeconomic status (SES) by determining access to education and employment opportunities. SES in turn remains a fundamental cause of racial differences in health. Segregation also creates conditions inimical to health in the social and physical environment. The authors conclude that effective efforts to eliminate racial disparities in health must seriously confront segregation and its pervasive consequences.


Realizing the Vision for a Healthy California (pdf)

POLICY BRIEF from Strategic Alliance, 2009

The Strategic Alliance for Healthy Food and Activity Environments has developed recommendations for taking advantage of opportunities from the American Recovery and Reinvestment Act of 2009 to improve the health and safety of all Californians.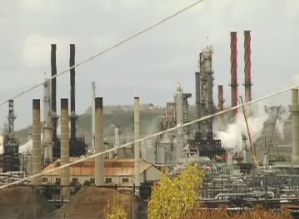 Richmond California Struggles for Clean Air

WEB-EXCLUSIVE VIDEO, Unnatural Causes
Community activist Torm Nompraseurt leads a "toxic tour" of Richmond, California where high levels of industrial pollution are wreaking havoc on the health and wellbeing of residents.


Tackling the Root Causes of Health Disparities Through Community Capacity Building (pdf)

ARTICLE by Anthony Iton. Chapter in Tackling Health Inequities Through Public Health Practice: A Handbook for Action
Iton explains how legacies of structural poverty, instituional racism, and other systemic injustices shape the environment in which all public health efforts take place. Thus, to successfully address a community's health, public health workers and policy officials need to take such factors into account, and design their interventions based on the particular strengths and needs of each community, and build partnerships as much as possible with community members, advocates, activists and other stakeholders. Successful public health action depend ultimately on the empowerment of the community itself.


THRIVE: The Tool for Health and Resilience in Vulnerable Environments

WEB SITE
THRIVE is a tool developed by the Prevention Institute to help you understand and prioritize the factors within your own community that can help improve health and safety. The tool can help answer questions such as: How can I identify key factors in my community and rate their importance? How are these factors related to health outcomes? What can I do to address each factor? Where can I go for more information?


Time of Opportunity: Local Solutions to Prevent Inequities in Health and Safety (pdf)

REPORT by Dr. Anthony Iton of the Alameda County Public Health Department and Larry Cohen, Rachel A. Davis and Sharon Rodriguez of Prevention Institute
This 2009 report prepared for presentation to the Institute of Medicine Roundtable on Health Disparities presents 32 recommendations for strengthening communities, improving quality health care access, developing our health system, and supporting local efforts.



Why Place Matters: Building a Movement for Healthy Communities (pdf)

REPORT by J. Bell and V. Rubin, PolicyLink.org
This report explains the framework of place (economic, social, physical, and service environments) to understand the relationship between community conditions and health, analyzes the connections among all the environmental factors that contribute to a healthy community, and identifies environmental effects on community health.

&nbsp