More films on equity and social justice »

EXPLORE BY TOPIC:


Our top 10 resources



Childhood / Early Life



Chronic Stress



Education



Food Security



Genetics



Jobs & Work



Housing / Neighborhoods



Income & Wealth



Race / Racism



Social Inclusion



Policy & Change









Background: As with income and education level, there's a health gradient in society tied to the jobs and work we do. Our position in the pecking order, the nature and stability of our work conditions and employment situation, and our access to power, control and resources all have an impact on our health.

Everyone knows that work can be stressful. But how does job stress get under the skin, and what can be done about it?

The Gradient. Contrary to popular wisdom, it's not CEOs dying of heart attacks, it's their subordinates. In general, those at the top of the job ladder live longer, healthier lives than those in the middle, who in turn fare better than those at the bottom. While much of this advantage is tied to wealth, it's also affected by how much power and autonomy people have at work, their job security, job design, safety of work conditions, and the respect their occupational status commands.

Although we all face pressure, we don't all have the same power over the demands we face or the same resources. Executives and top managers have decision-making authority, they control budgets and their schedules, and they can use their knowledge, leverage and clout to get what they want or need. As top earners, they are also more likely to live in the best neighborhoods, enjoy job perks and benefits, and have the resources to hire help or get away when the stress becomes too great.

Middle managers and supervisors may not be as well off as their superiors, but their position still affords them many advantages, which typically include: employment benefits like group health insurance and access to a retirement plan, sick time and paid vacation, some flexibility or stability with tasks and schedule, training opportunities, money for entertainment or the occasional escape, and a home in a secure neighborhood with decent schools.

Those lowest on the totem pole not only receive the smallest paycheck, they are likely to have less control over their tasks or schedule, less job security, less say in the workplace, less supervisor support, few or no benefits, more hazardous work conditions, more debt, more worries about their child's safety and future, more trouble balancing the demands of work and home, and less access to healthy avenues for stress relief.

Growing Inequality. Since the 1980s, an emphasis on short-term profit, the decline of unions and increased global competition have resulted in an unprecedented transfer of wealth and power to corporate shareholders and executives at the expense of the lives and health of the average worker. The growing wealth gap in the U.S. has corresponded to a decline in our international ranking for life expectancy, infant mortality, child poverty, and other health-related indicators.

Americans are working longer hours than ever before, yet they have less job security, fewer benefits and in some cases are earning lower pay. Companies looking to maximize profits and cut costs are not only moving overseas for cheaper labor, they are quietly undermining hard-won gains in the American workplace, by replacing permanent full-time positions with part-time workers and non-standard contractors and voiding collective bargaining agreements through legal loopholes. This allows corporations to pay less, deny benefits, exert more control over hiring and firing, and avoid accountability - sometimes skirting legal responsibility altogether.

These new work arrangements produce a cascade of direct and indirect health disruptions: everything from food and housing insecurity to increased family strife, anxiety, job strain, depression, substance abuse, and higher levels of disease risk. They also increase social costs that we all must bear: higher health care costs, increased disability, crime, divorce, and increased costs to the welfare system.

In fact, studies by Dr. Harvey Brenner indicate that unemployment can be measured by increased rates of mortality, domestic abuse, alcoholism, drug use and heart disease.

Other countries have passed legislation to protect workers, lessen inequality and help families. For example, European Union countries guarantee paid sick leave, paid vacation, government or industry-wide pensions, and severance pay following layoffs. Many of these countries also provide paid parental leave, universal preschool, universal health care, new parent support, and social protections for families in poverty. Scandinavian countries have even outlawed job strain.

Jobs & Work:

0

items found

Inclusion for the United States (pdf)

REPORT from Inclusion.org and the Center for Economic Policy and Research
This working paper makes the case for a new, overarching framework—social inclusion—to advance and integrate social policy. It critiques the current poverty framework and the official U.S. poverty measure, and explains why the concept of social inclusion is a better alternative. The paper discusses how the concept of social inclusion is used in the United Kingdom and how it might be adapted for use in the United States.


Job Stress and Heart Disease: Evidence and Strategies for Prevention

SCHOLARLY ARTICLE by Paul A. Landsbergis, et al., Scientific Solutions, 1993
A seminal article linking stress and high demand / low control work to heart disease and other health problems.



Job Stress Network

WEB SITE of the Center for Social Epidemiology
The purpose of this site is to bring together, for public dissemination, information about and related to Job Strain (specifically) and Work Stress (in general).


Jobs With Justice

WEB SITE
Jobs with Justice engages workers and allies in campaigns to win justice in workplaces and in communities where working families live. JwJ was founded in 1987 with the vision of lifting up workers' rights struggles as part of a larger campaign for economic and social justice. We believe in long-term multi-issue coalition building , grassroots base-building and organizing and strategic militant action as the foundation for building a grassroots movement, and we believe that by engaging a broad community of allies, we can win bigger victories. We reach working people through the organizations that represent them—unions, congregations, community organizations—and directly as JwJ activists. Nearly 100,000 people have signed the Jobs with Justice pledge to "Be There at least five times a year for someone else's struggle as well as their own."


Labor Project for Working Families

WEB SITE
Since 1992, the Labor Project for Working Families has been partnering with unions, union members, community based organizations and other activists to promote better work and family policies and programs, including paid family leave, child care, elder care and flexible work schedules. Their efforst include: educating unions about work/family initiatives; advocating public policies for working families; and promoting innovation and partnership between unions and communities.



Lessons From Sweden (pdf)

ARTICLE in the Review of Economic and Social Trends, April 2008
An excellent four-page primer on the Swedish model of social protections, prepared by the Canadian Centre for Policy Alternatives. There have been changes to the Swedish welfare state over the past two decades and, in some areas, inequality has increased. However, other social policy areas have expanded and other forms of inequality continue to steadily decline. Like the other Nordic lands, Sweden has been considerably more resistant to the 'imperatives' of global integration, and the article considers what we could all learn from their experiences.


Library of Resources on Social Determinants of Health

WEB SITE created and maintained by Dennis Raphael
A great collection of resources on the issues surrounding SDOH, health equity, and the politics of creating real change in the social factors that most affect health outcomes.

See especially Raphael's "Public policies and the problematic USA population health profile," and "The Politics of Population Health: Why the Welfare State is the Key Social Determinant of Health."


Links in the chain of adversity following job loss

SCHOLARLY ARTICLE by Richard Price, et al., Journal of Occupational Health Psychology, 2002

How financial strain and loss of personal control lead to depression, impaired functioning, and poor health. The first author, Rick Price, is featured in Not Just a Paycheck.


Maquilapolis (City of Factories)

DOCUMENTARY distributed by California Newsreel, 2006

The inspiring story of women workers in Tijuana who, though laboring for poverty wages, still stand up to transnational corporations to win severance pay and to clean up toxic waste sites.

This film is part of California Newsreel's Health and Social Justice Collection.


Mental health hits home: Is America driving you crazy and then killing you?

ESSAY by Stephen Bezruchka
University of Washington professor and emergency room doctor Bezruchka considers how social and economic factors contribute to astronomical rates of mental illness in the U.S., particularly among children.


Michigan Prevention Research Center

WEB SITE
Based out of the Institute for Social Research at the University of Michigan, the MPRC is dedicated to a program of prevention research on the problems of employment, economic stress, and well-being throughout the life course. MPRC seeks to extend scientific understanding of the links between conditions of employment and mental and physical health, while at the same time, expanding the policy and practice options available to both the public and private sector.


MomsRising.org

WEB SITE
An online, grassroots movement working for mandatory paid maternity and paternity leave, open flexible work, healthcare for all kids, excellent childcare, realistic and fair wages, and healthy afterschool options for all children.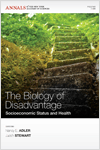 Multiple risk exposure as a potential explanatory mechanism for the socioeconomic statusĖhealth gradient

Gary W. Evans and Pilyoung Kim
One potential underlying explanation for socioeconomic status (SES) gradients in health is exposure to multiple risk factors. Income and class tend to sort
individuals into different settings that are often accompanied by systematic differences in environmental quality. Housing and neighborhood quality, pollutants and toxins, crowding and congestion, and noise exposure all vary with SES. Persons lower in SES also experience more adverse interpersonal relationships with family members, friends, supervisors, and communitymembers. Furthermore, exposure to thesemultiple risk factors is associated with worse health outcomes. Thus, the convergence of exposure tomultiple physical and psychosocial risk factors accompanying disadvantage may account for a portion of SES gradients in health in both childhood and adulthood.


Nancy Krieger Interview (pdf)

EDITED INTERVIEW TRANSCRIPT, Web-exclusive content from UNNATURAL CAUSES
In this original interview conducted for UNNATURAL CAUSES, Professor Nancy Krieger of the Harvard School of Public Health discusses the social gradient, the political economy of health, and the role of public health in struggles for social justice.


No Time to Be Sick: Why Everyone Suffers When Workers Don't Have Paid Sick Leave (pdf)

REPORT by Vicky Lovell, Ph.D., Institute for Women's Policy Research, 2004
Paid sick leave gives workers an opportunity to regain their health, return to full productivity at work, and avoid spreading disease to their co-workers, all of which reduces employers' overall absence expense. When used to care for sick children or dependent relatives, it helps recovery times and reduces job turnover of working parents. However, new analysis of data collected by the U.S. Bureau of Labor Statistics reveals the inadequacy of paid sick leave coverage: more than 59 million workers have no such leave. Even more—nearly 86 million—do not have paid sick leave to care for sick children.


No Vacation Nation (pdf)

REPORT by Rebecca Ray and John Schmitt, Center for Economic and Policy Research, May 2007

This report reviews the most recently available data from a range of national and international sources on statutory requirements for paid leave and paid public holidays in 21 rich countries (16 European countries, Australia, Canada, Japan, New Zealand, and the United States). In addition to our finding that the United States is the only country in the group that does not require employers to provide paid leave, we also note that almost every other rich country has also established legal rights to paid public holidays over and above paid leave.


Not Just a Paycheck - Episode Description (pdf)

UNNATURAL CAUSES, Episode 7
When Electrolux shut down the largest refrigerator factory in the country and moved it to Juarez, Mexico in search of cheaper labor, it turned the lives of many of the 3,000 employees who had worked there upside down. Cases of depression, alcoholism, and domestic abuse nearly tripled at the local hospital, and heart disease and mortality are predicted to rise. But when Electrolux shut down one of its Swedish plants it caused hardly a ripple. What kinds of policies can mitigate the negative health effects of job loss?


Not Just a Paycheck - Transcript (pdf)

UNNATURAL CAUSES, Episode 7
When Electrolux shut down the largest refrigerator factory in the country and moved it to Juarez, Mexico in search of cheaper labor, it turned the lives of many of the 3,000 employees who had worked there upside down. Cases of depression, alcoholism, and domestic abuse nearly tripled at the local hospital, and heart disease and mortality are predicted to rise. But when Electrolux shut down one of its Swedish plants it caused hardly a ripple. What kinds of policies can mitigate the negative health effects of job loss?


Not Just a Paycheck - Transcript with Citations (pdf)

UNNATURAL CAUSES, Episode 7, Copyright Vital Pictures 2008


Overworked, Vacation-Starved America Ranks #1 in Depression, Mental Health Problems

NEWS ARTICLE, In These Times, Nov 2008
Americans now work more hours than the citizens any other country, including Japan. According to a poll by Take Back Your Time, 52 percent of working Americans received less than a week of paid vacation in the past year – more than half of those received none – while 65 percent of workers received less than two paid weeks off. Pushing for guaranteed paid vacation could have major positive impacts on the nation's mental and physical health.

Partnership for Working Families

WEB SITE
The Partnership is an economic justice organization that works to ensure that public resources are invested in ways that are economically sound and provide a return to the community. They are working to reform development policy throughout the country so that the social and economic return on investment is tracked and reported to the public. The Partnership also seeks to secure a systematic and timely process for accomodating community input into development decisions.


Peaceful Revolution: The Last Summer (Without a Vacation)

EDITORIAL by John de Graaf in the Huffington Post, 2007
De Graaf comments on the findings of a recent ILO report that U.S. workers produce per capita wealth than any other country and are second most productive per hour in the world, yet more people are working longer hours just to make ends meet. After presenting statistics on how badly we compare to European countries on quality of life indicators, he makes the case for a federal mandate of three weeks paid vacation per year.


Precarious Work

CASE STUDY based on UNNATURAL CAUSES
Extensive research has shown that high demand-low control jobs are a recipe for chronic stress. Globalization and changes in the labor market over the past 30 years have resulted in a dramatic transformation in the nature and conditions of work – complicating our picture of the sources and types of stressors that workers face, as well as subsequent health outcomes and remedies.


Promoting Health Equity: A Resource to Help Communities Address Social Determinants of Health (pdf)

WORKBOOK - Centers for Disease Control and Prevention, 2008
This workbook is for community-based organizations seeking to affect the social determinants of health through community-based participatory approaches and nontraditional partnerships. Along with an introduction to the concepts of health equity, the workbook presents case studies of communities working at both small and large scales. The authors then provide guidelines for developing your own initiative, from creating partnerships to identifying your approach to assessing and maintaining your progress.


Recommendations for the Prevention and Wellness Funds (pdf)

POLICY MEMO from PolicyLink and Prevention Institute, April 2009
This memo offers recommendations for targeting Prevention and Wellness recovery funds to maximize the health and equity benefits in the Recovery Act of spring 2009. It makes the case that prioritizing disease prevention – particularly among the most impacted communities – is imperative to strengthening the nation. It makes specific recommendations for using funds to
- Build upon and leverage existing prevention initiatives;
- Promote equity by targeting America's low-income communities and communities of color;
- Target multi-disciplinary strategies focused on environmental change;
- Develop the health workforce to effectively shape and implement prevention efforts; and
- Advance a vision of healthy people, healthy places.

« Prev 1 | 2 | 3 | 4 Next »