More films on equity and social justice »

EXPLORE BY TOPIC:


Our top 10 resources



Childhood / Early Life



Chronic Stress



Education



Food Security



Genetics



Jobs & Work



Housing / Neighborhoods



Income & Wealth



Race / Racism



Social Inclusion



Policy & Change









Background: As with income and education level, there's a health gradient in society tied to the jobs and work we do. Our position in the pecking order, the nature and stability of our work conditions and employment situation, and our access to power, control and resources all have an impact on our health.

Everyone knows that work can be stressful. But how does job stress get under the skin, and what can be done about it?

The Gradient. Contrary to popular wisdom, it's not CEOs dying of heart attacks, it's their subordinates. In general, those at the top of the job ladder live longer, healthier lives than those in the middle, who in turn fare better than those at the bottom. While much of this advantage is tied to wealth, it's also affected by how much power and autonomy people have at work, their job security, job design, safety of work conditions, and the respect their occupational status commands.

Although we all face pressure, we don't all have the same power over the demands we face or the same resources. Executives and top managers have decision-making authority, they control budgets and their schedules, and they can use their knowledge, leverage and clout to get what they want or need. As top earners, they are also more likely to live in the best neighborhoods, enjoy job perks and benefits, and have the resources to hire help or get away when the stress becomes too great.

Middle managers and supervisors may not be as well off as their superiors, but their position still affords them many advantages, which typically include: employment benefits like group health insurance and access to a retirement plan, sick time and paid vacation, some flexibility or stability with tasks and schedule, training opportunities, money for entertainment or the occasional escape, and a home in a secure neighborhood with decent schools.

Those lowest on the totem pole not only receive the smallest paycheck, they are likely to have less control over their tasks or schedule, less job security, less say in the workplace, less supervisor support, few or no benefits, more hazardous work conditions, more debt, more worries about their child's safety and future, more trouble balancing the demands of work and home, and less access to healthy avenues for stress relief.

Growing Inequality. Since the 1980s, an emphasis on short-term profit, the decline of unions and increased global competition have resulted in an unprecedented transfer of wealth and power to corporate shareholders and executives at the expense of the lives and health of the average worker. The growing wealth gap in the U.S. has corresponded to a decline in our international ranking for life expectancy, infant mortality, child poverty, and other health-related indicators.

Americans are working longer hours than ever before, yet they have less job security, fewer benefits and in some cases are earning lower pay. Companies looking to maximize profits and cut costs are not only moving overseas for cheaper labor, they are quietly undermining hard-won gains in the American workplace, by replacing permanent full-time positions with part-time workers and non-standard contractors and voiding collective bargaining agreements through legal loopholes. This allows corporations to pay less, deny benefits, exert more control over hiring and firing, and avoid accountability - sometimes skirting legal responsibility altogether.

These new work arrangements produce a cascade of direct and indirect health disruptions: everything from food and housing insecurity to increased family strife, anxiety, job strain, depression, substance abuse, and higher levels of disease risk. They also increase social costs that we all must bear: higher health care costs, increased disability, crime, divorce, and increased costs to the welfare system.

In fact, studies by Dr. Harvey Brenner indicate that unemployment can be measured by increased rates of mortality, domestic abuse, alcoholism, drug use and heart disease.

Other countries have passed legislation to protect workers, lessen inequality and help families. For example, European Union countries guarantee paid sick leave, paid vacation, government or industry-wide pensions, and severance pay following layoffs. Many of these countries also provide paid parental leave, universal preschool, universal health care, new parent support, and social protections for families in poverty. Scandinavian countries have even outlawed job strain.

Jobs & Work:

0

items found

Reducing Inequities in Health and Safety through Prevention (pdf)

POLICY MEMO from Prevention Institute and the Health Policy Institute of the Joint Center for Political and Economic Studies, January 23, 2009

Advancing health equity to ensure all Americans have the opportunity to lead healthy lives should be a priority. We have an opportunity to do so in a way that alleviates pressure on the health system and saves money. This memo was developed in January '09 to provide background and recommendations for developing a comprehensive, prevention-oriented strategy for acheiving health equity.



Reducing Racial and Social Inequalities in Health: The Need for a New Approach

SCHOLARLY ARTICLE by S. Leonard Syme, Health Affairs 2008
It is well known that people in racial and ethnic minority groups and in lower social-class positions have higher morbidity and mortality rates from virtually every disease. To effectively deal with the problem, we will need to adopt a more appropriate conceptual model that focuses on the fundamental determinants of health, we will need to understand how important this is for all Americans as a society, and we will need to better deal with the issues people care about: their children, homes, jobs, safety, education, families, retirement, and future prospects.

Abstract only. Subscription required to read full text.


Relation Between Job Strain, Alcohol, and Ambulatory Blood Pressure

SCHOLARLY ARTICLE, Schnall, et al., 1992
This key study finds that job strain increases blood pressure in men not only at work, but at home and while sleeping. It also finds that regular use of alcohol further raises daytime blood pressure, but only among those in high-strain jobs.

rising Inequality, Declining Health: Health Outcomes and the Working Poor

How healthy are people who are working but still can't make ends meet? How does their health compare to those who are working and have good incomes? How do both of those health outcomes compare to those who are poor and not working? This report shows a widening gap between the health of people who are living in poverty and working and those whose work provides sufficient incomes. This suggests that worsening labour market conditions, a weakened social safety net and increasing income inequality are accompanied by rising inequities in health.


San Francisco Paid Sick Leave Ordinance (pdf)

PRESENTATION SLIDES, SF Office of Labor Standards Enforcement, January 11, 2007
Passed by a 61% majority vote, Proposition F required that all employers must provide paid sick leave to each employee who performs work in San Francisco, starting in 2007. This pdf of a slideshow explains some of the background and details of the ordinance, and provides statistics and details regarding its importance.


Sick People or Sick Societies?

RADIO SHOW, CBC, "The Best of Ideas Podcast" 2008
Journalist Jill Eisen explores the importance of the social determinants of health from a Canadian perspective. The program devotes considers the importance of looking at "upstream" causes of health and presents possible policies for intervention on different levels.
Part One: S. Leonard Syme, Richard Glazier, Carol Shively, and Michael Marmot explain the concepts behind social determinants of health, present evidence for how stress contribute to "modern" diseases, and elaborate the moral and practical obligations we have to demand action.
Part Two: Dennis Raphael, Richard Glazier, and Clyde Hertzman discuss the obesity and diabetes epidemics and early childhood development. Raphael makes an interesting commentary as to why governments continuously fail to address social threats to health.


Social change and health in Sweden - 250 years of politics and practice

BOOK by Jan Sundin and Sam Willner, Swedish National Institute of Public Health, 2008
This thorough text examines the history of public health in Sweden, with particular attention to the emergence of the welfare state in the past century. Say the authors, "Historical lessons cannot be transferred uncritically from one country to another. However, differences and similarities in appropriate contexts can increase our understanding of relations between health and society. We hope that this book will be useful for policy comparisons and in the training of public health policy-makers, researchers, administrators and practitioners."

Full pdf available online, 5 MB.


Socioeconomic Disparities In Health: Pathways and Policies

SCHOLARLY ARTICLE by Nancy E. Adler and Katherine Newman, Health Affairs, 2002
Socioeconomic status (SES) underlies three major determinants of health: health care, environmental exposure, and health behavior. In addition, chronic stress associated with lower SES may also increase morbidity and mortality. Reducing SES disparities in health will require policy initiatives addressing the components of socioeconomic status (income, education, and occupation) as well as the pathways by which these affect health. Lessons for U.S. policy approaches are taken from the Acheson Commission in England, which was charged with reducing health disparities in that country.


Strategic Review of Health Inequalities in England Post 2010

WEB SITE
Professor Sir Michael Marmot has been asked by the British government to Chair an independent Review to propose the most effective strategies for reducing health inequalities in England from 2010. This review is a response to the recommendation of the WHO Commission on Social Determinants of Health that national governments develop and implement strategies and policies suited to their particular national context aimed at improving health equity.


Take Back Your Time

WEB SITE
Take Back Your Time is a campaign to pass The Minimum Leave Protection, Family Bonding and Personal Well-Being Act of 2007. This amendment to the Fair Labor Standards Act would guarantee that anyone who's worked at a job for a year would get three weeks of vacation. On the site, you can download a handbook and other resources for mobilizing around this goal.


The Beloved Community

DOCUMENTARY distributed by California Newsreel, 2006

Sarnia, a Great Lakes oil town that is the nerve center of Canada's petrochemical industry, once enjoyed the highest standard of living in the country, but now the bill has come due, in compromised environmental and community health.

This film is part of California Newsreel's Health and Social Justice Collection.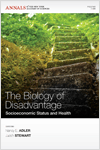 The Biology of Disadvantage: Socioeconomic Status and Health

JOURNAL Nancy E. Adler and Judith Stewart, eds. Annals of the New York Academy of Science
How does socioeconomic status get under the skin? This book summarizes the decade of research by the MacArthur Foundation Research Network on Socioeconomic Status and Health "exploring the pathways and mechanisms that contribute to the gradient relationship between socioeconomic status and health."

PDFs of each article are available online. You may also purchase a complete copy of the journal.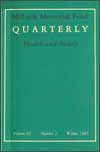 The Questionable Contribution of Medical Measures to the Decline of Mortality in the United States in the Twentieth Century

SCHOLARLY ARTICLE, The Milbank Memorial Fund Quarterly. Health and Society, 1977
This article makes the case that social reforms, not improvements in medical technology, have been largely responsible for the major improvements in population health over the past century. "Legislators, practitioners, and the public may deem it "heretical," but analysis of United States data shows that introduction of specific medical measures and expansion of services account for only a fraction of the decline in mortality since 1900. Even acknowledging that "mortality" and "health" are not synonymous, analysis of age- and sex-adjusted rates still suggests important trends and generates hypotheses for informed social action."

Available online by JSTOR subscription or purchase only.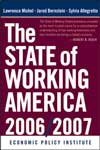 The State of Working America 2006/2007

REPORT by Mishel, Bernstein, and Allegretto, Cornell University Press and the Economic Policy Institute, 2007
Prepared biennially since 1988, EPI's flagship publication sums up the problems and challenges facing American working families, presenting a wide variety of data on family incomes, taxes, wages, unemployment, wealth, and poverty — data that enables the book's authors to closely examine the impact of the economy on the living standards of the American people. The State of Working America 2006/2007 is an exhaustive reference work that will be welcomed by anyone eager for a comprehensive portrait of the economic well-being of the nation.


The Story of Stuff

VIDEO and WEBSITE by Annie Leonard
This entertaining and often surprising 20 minute video explains in easy language how "stuff" is produced, distributed, sold, and disposed of - and why the current system is in crisis. The Web site then offers tips for what you can do to help change the destructive chain, and inspiration for how to get involved in a wide variety of possible ways.


The Work, Family, and Equity Index: How Does the United States Measure Up?

REPORT by The Project on Global Working Families, 2007
The Work, Family, and Equity Index has been developed to measure governmental performance around the world in meeting the needs of working families in general and and low- and middle-income working families in particular. The policies used to comprise the index have achieved widespread recognition based on the weight of the research evidence or consensus in global policy and international agreements.


Top Ten Priorities for Prevention

ISSUE REPORT, Trust for America's Health
TFAH has identified 10 key policy areas where government action could improve the health of the U.S. population and lower the costs associated with treating people after they're already sick:
Promoting Disease Prevention
Combating the Obesity Epidemic
Preventing Tobacco Use and Exposure
Preventing and Controlling Infectious Diseases
Preparing for Potential Health Emergencies and Bioterrorism Attacks
Recognizing the Relationship Between Health and U.S. Economic Competitiveness
Safeguarding the Nation's Food Supply
Planning for Changing Health Care Needs of Seniors
Improving the Health of Low-Income and Minority Communities
Reducing Environmental Threats

And a crosscutting recommendation for:
Holding Government Accountable for Protecting the Health of Americans

Unemployment is Hard on the Heart, and the Harm May Add Up

In a study published in the Archives of Internal Medicine, researchers report that repeated job losses may be as damaging to the heart health as smoking, high blood pressure, or diabetes. Among Americans aged 50 to 75, the unemployed suffer heart attacks at a rate that is 35% higher than that among employed people with otherwise similar risk factors, and the rate seems to rise with every new period of unemployment.


Unemployment May Be Hazardous to Your Health

NEWS ARTICLE by Roni Caryn Rabin, New York Times, May 8, 2009
Even as the U.S. Labor Department released figures showing that the economy lost more than half a million jobs in April, researchers made public a large study with an unsettling finding: Losing your job may make you sick.



United for a Fair Economy

WEB SITE
A national, independent, nonpartisan, non-profit organization, UFE raises awareness that concentrated wealth and power undermine the economy, corrupt democracy, deepen the racial divide, and tear communities apart. We support and help build social movements for greater equality.


WakeUpWalMart.com

WEB SITE of "America's Campaign to Change WalMart"
Wal-Mart is America's largest employer, yet pays poverty level wages, leaves over 775,000 of its workers without company health care, faces the largest gender discrimination lawsuit in the country, shuts down small businesses and helps ship jobs overseas. This campaign to change Wal-Mart is "a fight for what kind of America we want to live in. In our America, people come first. Multi-billion dollar corporations shouldn't be able to hide behind their special interest lobbyists and billion dollar ad campaigns. That is why we are building the largest grassroots campaign to change a corporation in history. By changing Wal-Mart, we improve people's lives, help our community and build a better America."


Waking Up from the American Dream: Meritocracy and Equal Opportunity Are Fading Fast

EDITORIAL by Aaron Bernstein, Business Week Magazine, 2003
Dead-end jobs and the high cost of college could be choking off upward mobility...


What's the Economy for, Anyway?

ESSAY by John de Graaf

De Graaf, filmmaker, author, and national coordinator of the Take Back Your Time campaign, questions the heavy focus in the U.S. during recent decades on increasing GDP at the expense of our health and overall quality of life.



Whitehall Study of British Civil Servants

WEB SITE by the University College London Epidemiology and Public Health
A source for more information about the Whitehall Study, led by Sir Michael Marmot. This study, described in the series, followed British civil servants for 30 years and provided clear evidence of the health-wealth gradient.

Why Being a Leader is Less Stressful than Following

ARTICLE by Maia Szalavitz, TIME Health & Family, September 26, 2012

Research increasingly suggests that it's actually people lower down on the social scale — not those in leadership positions at the top — who suffer the worst health effects of stress. Now a new study of military officials and government staffers at a Harvard executive-training program confirms these findings, showing that as people climb the organizational rungs, their stress hormone levels and anxiety typically go down.

« Prev 1 | 2 | 3 | 4 Next »