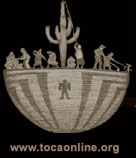 Tohono O'odham Community Action (TOCA) is a grass-roots organization working to reduce diabetes and improve the health of residents by encouraging ties to traditional culture.

ARTICLES
See resources related to this case study »
Download lesson plan related to this case study: PDF or Word
For
Native
communities
like the O'Odham, the key to combating diabetes lies in developing culturally-sensitive strategies to counter the "
futurelessness
" driving the epidemic. Although approaches may vary from tribe to tribe, they center on these
common core issues
: (1) creating economic opportunity and power; (2) strengthening cultural identity and ties; (3) fostering
self-determination
, tribal sovereignty and self-sufficiency; and (4) providing people with healthy alternatives to government commodities, especially surplus food. These wellness models run the gamut - from connecting people to traditional foods and culture to restoring
water rights
to making wholesale changes in tribal laws, programs and policies that have a direct
impact on health.
For example, tribal schools and preschool programs have begun to re-evaluate school lunch programs and some tribal leaders are promoting better dietary choices by restricting junk and calorie-laden foods at community events and requiring non-Native-owned food outlets doing business on the reservation to eliminate harmful foods and stock healthier choices. Groups like Tohono O'odham Community Action (see related story) are growing traditional foods for commercial sale and ceremonial use and leading cultural renewal programs. Dozens of tribes have sued to restore century-old water rights – some to preserve sacred streams, some to renew once-rich fields that have lain fallow for a generation or more – most wanting to regain their livelihood and connection to the land.
Meanwhile, diabetes prevention practitioners are providing traditional "talking circles" and other culturally appropriate mental and emotional health programs to better serve the needs of Native communities. And education advocates continue to fight for adequate funding and grants to tribes for tutoring, counseling and other services that will help American Indians on reservations and in urban areas avoid becoming another diabetes statistic.
Although there's no one-size-fits-all approach for diabetes, some Native American groups are helping to pave the way for all of us by taking control of their future and making the connection between better health, increased opportunity and socio-cultural transformation. These new models of disease prevention and community empowerment provide valuable clues and inspiration for going beyond the limited biomedical perspective and instead advancing health equity for everyone.