UNNATURAL CAUSES: A 7-Part Series
A 7-Part Series, (1 x 56mins, 6 x 26 mins),
dual language DVD - Menus, Audio and Subtitles in English and Spanish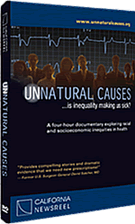 PRICES
$295 for college/corporation/government agency
(DVD + 3-Year Site/Local Streaming License)
$49.95 for high school, public libraries, HBCUs
& qualifying community organization
(DVD License without Streaming Rights)
$49.95 for Asian-languages version of "Place Matters" available on a separate DVD
Call or fax to order:
415-284-7800 (p), 415-284-7801 (f)
Purchase a t-shirt with our Health/Wealth design »
---
RELATED FILMS FROM CALIFORNIA NEWSREEL
MONEY DRIVEN MEDICINE



This important new documentary, produced by Academy Award winner Alex Gibney (Taxi to the Dark Side, Enron: The Smartest Guys in the Room), explores how the medical-industrial complex coupled with often perverse fee-for-service incentives brings us high cost yet poor performance health care. Money Driven Medicine pierces the myths about costs that all Americans need to know to participate in the battle over health care reform.
RACE - THE POWER OF AN ILLUSION



What is this thing we call "race"? Where did the idea come from? What are the patterns of human variation? This acclaimed three-part series from the producers of UNNATURAL CAUSES compels viewers to scrutinize some of their most fundamental beliefs. Though race is not a biological reality, it remains a very real social one.

Health and Social Justice

UNNATURAL CAUSES "Place Matters" is now available in multiple Asian languages on a separate DVD. The DVD enables you to choose from English, Cantonese, Mandarin, Hmong, Lao and Vietnamese audio with English and / or Mandarin subtitles.
HEALTH FOR SALE - Are the world's largest drug companies, paradoxically, major obstacles to making a healthier world? This documentary focuses on the ten largest pharmaceutical makers, who account for US$500 billion of world health spending a year and whose US$205 billion in pre-tax profits were more than the combined profits of the 490 other Fortune 500 companies.
THE BELOVED COMMUNITY - Sarnia, a Great Lakes oil town that is the nerve center of Canada's petrochemical industry, once enjoyed the highest standard of living in the country, but now the bill has come due, in compromised environmental and community health.
A KILLER BARGAIN - The availability and price of cheap consumer goods imported by Western companies belie the human and environmental costs of their production.
MAQUILAPOLIS (City of Factories) - The inspiring story of women workers in Tijuana who, though laboring for poverty wages, still stand up to transnational corporations to win severance pay and the clean up of toxic waste sites.


Structural Racism See all »

Tulia, Texas - This investigation into a shocking drug bust exposes how the "war on drugs" has become a war on due process, waged against African Americans.
Brick by Brick: A Civil Rights Story - Tracks the landmark case, U.S. vs Yonkers, which challenged housing and educational discrimination in the North and pushed for desegregation.
Traces of the Trade - One family's painful confrontation with their ancestors' involvement in the slave trade illustrates how slavery's legacy has shaped life even in the North.
The Rise and Fall of Jim Crow - Emancipation ended slavery only to replace it with an American form of apartheid, euphemistically known as Jim Crow, used to keep African Americans as second class citizens. This four-part series constitutes a major cinematic achievement covering the years between Reconstruction and Civil Rights.
The Road to Brown - The history of segregation sanctioned by the 1898 Plessy v. Ferguson decision, and the visionary legal campaign against it that led to the triumph of Brown v. Board of Education in 1954. Now available on DVD..
For more information, please visit the California Newsreel Web site at www.newsreel.org.