« Back to Action Center


Survey Summary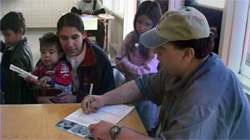 Alameda Country residents participate in a health department survey.
Americans are beginning to change the way they think about health. The Unnatural Causes User Survey found that for the first time in recent history, there is growing recognition outside academic circles that tackling the inequities shaping where and how we live, learn, work, and play is key to improving health and wellbeing for all.
Since the release of Unnatural Causes in spring 2008, thousands of organizations of widely varied size and focus have hosted screenings in all 50 states. The series has been used internally for staff, member, and leadership development, and externally, with existing and new partners, the public, and the policy community. For many, convening events around Unnatural Causes marked their first attempt to operationalize a commitment to health equity.
However, even as more and more organizations commit to tackling health inequities, many are struggling over how to integrate a health equity framework into their work and what concrete actions and strategies they can pursue to address the inequitable distribution of health-essential resources and improve neighborhood conditions.
Recommendations Summary
1. Health equity is not an issue but a framework. Apply a health equity lens to the issues you already tackle.
2. Start with internal screenings and discussions.
3. Plan. Take the time to develop your screening goals and strategy. 
4. Make screenings steps to future engagement, not one-time events
4.1 Be ready to redirect discussion from unequal outcomes (or biomedical and behavioral explanations for them) back to inequities in the policies, systems, and power relationships that generate unequal outcomes.

4.2 Help audiences appreciate how these issues affect them. 

4.3 Provide specific opportunities for audiences and participants to become involved.
5. Reach out to other sectors; don't expect them to come to you. 
6. Document and publicize your events, outcomes, and follow-up activities widely.
7. Engage and educate the press.