UNNATURAL CAUSES will be rebroadcast beginning October 9 on many PBS stations.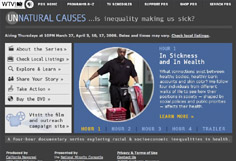 PBS will feed UNNATURAL CAUSES to the stations on four Fridays at 10:00 PM beginning October 9, 2009 (the series was originally broadcast in Spring 2008).
Note that PBS stations are free to run the series whenever they want. To check for rebroadcasts on your local PBS station please click here: View station-by-station listings of broadcasts (PDF) in autumn 2009.
If you do not see your station listed, contact your local PBS station programming or viewer relations department . Ask them whether they will rebroadcast UNNATURAL CAUSES at the national PBS October 9 feed time or another time.