More films on equity and social justice »

EXPLORE BY TOPIC:


Our top 10 resources



Childhood / Early Life



Chronic Stress



Education



Food Security



Genetics



Jobs & Work



Housing / Neighborhoods



Income & Wealth



Race / Racism



Social Inclusion



Policy & Change









Background: In the United States, street address and zip code are surprisingly good predictors of health. Why? Because the social, economic, and physical environments in which we live powerfully shape our life chances and wellbeing - for better and worse.

Where we live is not simply a matter of personal preference. It has a profound impact on financial security, school quality, job opportunities, safety, as well as access to goods and services. Unfortunately, racial segregation and past housing and loan discrimination have helped create inequities in neighborhood quality and the distribution of wealth and health.

Among other things, communities with lower income and educational levels tend to have higher rates of asthma, obesity, diabetes, heart disease, and child poverty. They are also more likely to have substandard housing, underfunded schools, poor access to grocery stores and supermarkets, and to be located near toxic industries and other sources of pollution.

On the other hand, well-off neighborhoods include many resources that help protect and sustain individual and group health: safe streets, well-maintained public spaces, good schools, libraries and other amenities, community programs, clean air, and good access to jobs and healthy food options.

Several overlapping factors play an important role in shaping health directly and indirectly:

Physical environment. Built space, infrastructure, and environmental quality all have a direct impact on our wellbeing. Old, substandard housing is more likely to have peeling paint, exposing families to dangerous lead levels, as well as pests and mold, which increase the risk of infectious disease and respiratory ailments like asthma. Geographic access to jobs, services and safe places to exercise and play shapes behaviors, choices and economic opportunities. Proximity to polluting industries, waste, freeways, and other hazards affects the air we breathe, the water we drink and the land we live on. Noise pollution also affects our anxiety and stress levels, which increase our risk for chronic illness.

Economic environment. Wealth, employment and economic mobility are important to foster good health, now and in the future. High housing costs threaten food and financial security, while concentrated poverty and a lack of good jobs lead to crime and disinvestment. On the flip side, home ownership brings financial security; attracts public and private investment in businesses, schools and infrastructure; and also promotes neighborhood cohesion - all of which are beneficial to health. Job training and access to good jobs with benefits, decent pay and career ladders help families avoid falling into financial disaster and reduces their risk for premature death and chronic disease.

Social environment. Communities that have strong social networks and foster social inclusion are healthier. Isolation and lack of support not only contribute to illness, they disempower individuals and communities. Neighborhoods where residents gather and help one another can foster belonging, affirmation and increased civic participation. They also have a bigger voice: organized groups can better advocate for their needs, reduce crime and increase safety, and bring health-promoting resources and services into their environment.

Resources and services. Our access to grocery stores and supermarkets, reliable transportation, clean parks, safe streets, community programs and institutional services reflect larger structural patterns of opportunity and advantage in society. Nevertheless, they impact our ability to make healthy choices, to gain skills and knowledge, to get adequate health care, fire protection and police protection, to avoid injury and live relatively unencumbered by fear, and fundamentally, to ensure that our basic needs are met and that we have a future to look forward to.

Together, these elements determine our health in subtle and obvious ways. Ensuring that every community is the healthiest it can be requires community organizing, political will, and public investment. Strategies to revitalize neglected areas, clean up environmental hazards, improve schools and foster economic development and wealth are critical they but must include and respond to the needs of residents, who more often than not are painfully aware of what is wanting in their communities.

Housing / Neighborhoods:

0

items found

Living in Disadvantaged Neighborhoods is Bad for Your Health

VIDEO EXCERPT, Unnatural Causes - Episode 5
Why is your street address such a good predictor of your health? Increasingly, Southeast Asian immigrants like Gwai Boonkeut are moving into neglected urban neighborhoods where African Americans have long suffered, and now their health is being eroded too. What can be done to create a neighborhood that promotes rather than destroys health?


Louisville's Rubbertown Neighborhood Fights against Toxic Emissions

WEB-EXCLUSIVE VIDEO, Unnatural Causes

Eboni Cochran and her neighbors in Louisville have organized to demand that chemical companies in their area do a better job of monitoring and containing hazardous materials that seep into the soil and air. Across the country, polluting industries are concentrated in communities where the poor and people of color live.


Maquilapolis (City of Factories)

DOCUMENTARY distributed by California Newsreel, 2006

The inspiring story of women workers in Tijuana who, though laboring for poverty wages, still stand up to transnational corporations to win severance pay and to clean up toxic waste sites.

This film is part of California Newsreel's Health and Social Justice Collection.


Moving upstream: Working together to create healthier communities

DVD and REPORT, Blue Cross and Blue Shield of Minnesota Foundation
In 2006, the Blue Cross and Blue Shield Foundation hosted a statewide policy forum on social determinants of health. Minnesota leaders in health, housing, early childhood development, environment, government, nonprofit and philanthropy gathered to discuss how these different sectors can work together to improve community health. Nationally acclaimed speakers - including UNNATURAL CAUSES featured scholars Ichiro Kawachi, Camara Jones, and Jim Krieger - shared research and ideas for focusing efforts "upstream," on social, economic and environmental factors that influence health.

The 3-DVD set and/or print materials on the proceedings are available to organizations free of charge.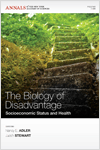 Multiple risk exposure as a potential explanatory mechanism for the socioeconomic statusĖhealth gradient

Gary W. Evans and Pilyoung Kim
One potential underlying explanation for socioeconomic status (SES) gradients in health is exposure to multiple risk factors. Income and class tend to sort
individuals into different settings that are often accompanied by systematic differences in environmental quality. Housing and neighborhood quality, pollutants and toxins, crowding and congestion, and noise exposure all vary with SES. Persons lower in SES also experience more adverse interpersonal relationships with family members, friends, supervisors, and communitymembers. Furthermore, exposure to thesemultiple risk factors is associated with worse health outcomes. Thus, the convergence of exposure tomultiple physical and psychosocial risk factors accompanying disadvantage may account for a portion of SES gradients in health in both childhood and adulthood.


Nancy Krieger Interview (mp3)

PODCAST, Web-exclusive content from UNNATURAL CAUSES
In this audio podcast, excerpted from an interview conducted for UNNATURAL CAUSES, Nancy Krieger of the Harvard School of Public Health talks about the political economy of health, how racial and place-based inequities impact health, and how public health and social justice are inextricably intertwined.

ENHANCED PODCAST (m4a)



National Low Income Housing Coalition

WEB SITE
The National Low Income Housing Coalition is dedicated solely to ending America's affordable housing crisis. They believe that this is achievable, that the affordable housing crisis is a problem that Americans are capable of solving. While they are concerned about the housing circumstances of all low income people, they focus our advocacy on those with the most serious housing problems, the lowest income households.


Neighborhood Characteristics Associated with the Location of Food Stores and Food Service Places

SCHOLARLY ARTICLE by Kimberly Morland, et al. American Journal of Preventative Medicine
This study examines the distribution of food stores and food service places by neighborhood wealth and racial segregation. It finds that, compared to the poorest neighborhoods, large numbers of supermarkets and gas stations with convenience stores are located in wealthier neighborhoods. There are three times fewer places to consume alcoholic beverages in the wealthiest compared to the poorest neighborhoods. Regarding neighborhood segregation, there are 4 times more supermarkets located in white neighborhoods compared to black neighborhoods.



Neighborhood of Residence and Incidence of Coronary Heart Disease

SCHOLARLY ARTICLE, Ana Diez-Roux, et al, 2001
A peer-reviewed study finding that even after controlling for personal income, education, and occupation, living in a disadvantaged neighborhood is associated with an increased incidence of coronary heart disease.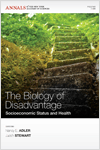 Neighborhoods and health

Ana V. Diez Roux and Christina Mair
This piece summarizes key work in the study of neighborhood health effects with a particular focus on chronic disease outcomes (specifically obesity and related risk factors) and mental health (specifically depression and depressive symptoms). Empirical work is classified into two main eras: studies that use census proxies and studies that directlymeasure neighborhood attributes using a variety of approaches. Key conceptual and methodological challenges in studying neighborhood health effects are reviewed. Existing gaps in knowledge and promising new directions in the field are highlighted.


Neuroscience, Molecular Biology, and the Childhood Roots of Health Disparities: Building a New Framework for Health Promotion and Disease Prevention

SCHOLARLY ARTICLE, Journal of the American Medical Association, June 3, 2009
This paper, co-authored by Drs. Jack P. Shonkoff, W. Thomas Boyce, and Bruce S. McEwen, illustrates that the origins of many adult diseases can be traced to negative experiences early in life, so confronting the causes of adversity before and shortly after birth may be a promising way to improve adult health and reduce premature deaths.
Summary of Essential Findings (pdf)
Q&A (pdf)



New, Homes, New Neighborhoods, New Schools: A Progress Report on the Baltimore Housing Mobility Program

Poverty and Race Research Action Council
This report describes and evaluates the ambitious voucher program that has enabled 1500 families living in highly segregated and disadvantaged Baltimore inner city neighborhoods to move to integrated, suburban "opportunity" neighborhoods. The initiative originated as a partial settlement of the public housing desegregation case, Thompson v. HUD and was launched in 2003.


Opportunity Mapping

RESEARCH TOOL from the Kirwan Institute
Opportunity mapping is a research tool used to understand the dynamics of "opportunity" within metropolitan areas. The purpose of opportunity mapping is to illustrate where opportunity rich communities exist (and assess who has access to these communities) and to understand what needs to be remedied in opportunity poor communities. Opportunity mapping builds upon the rich history of using neighborhood based information and mapping to understand the challenges impacting our neighborhoods. Currently, the site explains the concept behind opportunity mapping and provides examples. They will soon launch a blog and resource Web site for individuals and organizations using neighborhood based information systems.

People in Poor Neighborhoods Breathe More Hazardous Particles

Scientific American
Tiny particles of air pollution contain more hazardous ingredients in non-white and low-income communities than in affluent white ones, a new study shows.


Place Matters - Episode Description (pdf)

UNNATURAL CAUSES, Episode 5
Why is your ZIP code such a powerful predictor of your health? The show looks at some of the chronic stressors and environmental threats to health faced by the residents of Richmond, California, and look at how the community of High Point, in Seattle, Washington, attempted to address similar problems.


Place Matters - Transcript (pdf)

UNNATURAL CAUSES, Episode 5
Why is your ZIP code such a powerful predictor of your health? The show looks at some of the chronic stressors and environmental threats to health faced by the residents of Richmond, California, and look at how the community of High Point, in Seattle, Washington, attempted to address similar problems.


Place Matters - Transcript with Citations (pdf)

UNNATURAL CAUSES, Episode 5, Copyright Vital Pictures 2008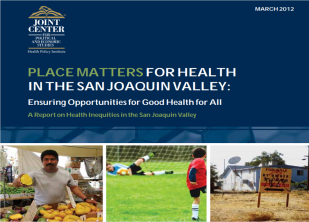 Place Matters for Health in the San Joaquin Valley

REPORT from Joint Center for Political and Economic Studies & San Joaquin Valley Place Matters Team, 2012
This study examines the relationships between place, race and ethnicity, and health in the San Joaquin Valley of California and attempts to address two specific questions raised by the San Joaquin Valley Place Matters Team: What is the relationship between social factors and premature mortality? What is the relationship between social factors and exposure to environmental hazards?


Place Matters: Exploring Our Neighborhoods

LESSON PLAN developed by California Newsreel, 2009
Students investigate their own neighborhoods and gain practice in research and analysis while drawing connections between health and a neighborhood's physical, social, service, and economic environments.



PolicyLink

WEB SITE
PolicyLink is a national research and action institute advancing economic and social equity by "Lifting Up What Works." By developing and implementing multifaceted strategies, PolicyLink seeks to ensure that everyone—including low-income communities of color—can contribute to and benefit from local and regional growth and development.

Poverty As A Childhood Disease

Blog post by Dr. Perri Klass at the New York Times "Well" blog

"Think for a moment of poverty as a disease, thwarting growth and development, robbing children of the healthy, happy futures they might otherwise expect. In the exam room, we try to mitigate the pain and suffering that are its pernicious symptoms. But our patients' well-being depends on more, on public health measures and prevention that lift the darkness so all children can grow toward the light."


Prevention for a Healthier America: Investments in Disease Prevention Yield Significant Savings, Stronger Communities (pdf)

REPORT developed in a partnership of the Trust for America's Health, The Urban Institute, The New York Academy of Medicine, the Robert Wood Johnson Foundation, The California Endowment, and Prevention Institute. Feb 2009

This study examines how much the country could save in health care costs if we invested more in disease prevention, specifically by funding proven community-based programs that result in increased levels of physical activity, improved nutrition (both quality and quantity of food), and a reduction in smoking and other tobacco use rates.


Prevention Institute

WEB SITE
Prevention Institute is a non-profit national center dedicated to improving community health and well-being by building momentum for effective primary prevention. Primary prevention means taking action to build resilience and to prevent problems before they occur. The Institute's work is characterized by a strong commitment to community participation and promotion of equitable health outcomes among all social and economic groups. Since its founding in 1997, the organization has focused on injury and violence prevention, traffic safety, health disparities, nutrition and physical activity, and youth development.


Primer to Action: Social Determinants of Health

REPORT by the Ontario Prevention Clearinghouse, 2007
This resource is for health professionals, lay workers, volunteers and activists. It's for you and your organization, but also for your family, and your community. We will focus on six key determinants of health: income, education, employment, housing, food, and inclusion. The Primer to Action will show you:
1) where you can find more information about each of six determinants;
2) how you can work on the determinants in your agency;
3) who you can learn from, with examples and models; and
4) what you can do in your community.


Profile of four individuals: Mapping health and inequities across Louisville

MAP and CHARTS based on UNNATURAL CAUSES

« Prev 1 | 2 | 3 | 4 | 5 Next »