NEWS
---
Free Video Streaming: Not Just a Paycheck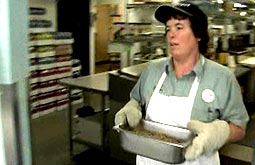 Persistent unemployment and growing inequality are fueling the Occupy Wall Street movement. But we pay another price when companies put profits ahead of people: our health. The UNNATURAL CAUSES episode "Not Just a Paycheck" travels to western Michigan to find out how the corporate drive for cheaper labor undermines communities and why it leaves increased illness and disease in its wake. Stream "Not Just a Paycheck" (31 min.) for free until December 1!
Join Us on Facebook!
UNNATURAL CAUSES has finally joined Facebook!
1. Like us and invite your friends, colleagues, constituents and students to join us on Facebook too.
2. Get facts, resources, video clips and other tools for health equity.
3. Post news and updates about your work & share innovative strategies and inspiring stories.
New Health Equity Resources
Videos
Wilkinson on TED
Richard Wilkinson, author with Claire Pickett of The Spirit Level, presents a TED talk on how inequality harms societies (17 min).
Jack Shonkoff on Early Brain Development
Jack Shonkoff, MD, Director of the Center on the Developing Child and a "cast member" of UNNATURAL CAUSES, provides a quick tour of how the brain develops and why early leaning matters as part of the NBC News Education Summit (9 min. 30 sec.).
On-Line Learning
Roots of Health Inequity
Free web-based course goes live! The National Association of County and City Health Officials (NACCHO), a strategic UNNATURAL CAUSES partner, launches its new on-line course: Roots of Health Inequity. Two years in the making, the course explores the processes by which health and disease are patterned differentially by class and race as well as strategies for tackling the root causes of health inequities. While designed for public health staff, anyone make take the course. And it's free!

Searchable Community-Driven Database



Early Child Health and Development Database
California Newsreel has launched a database of early child development organizations, initiatives and resources. The Database features the life-course approach, equity issues, and the role of public policy and the larger socio-economic environment. Since it's user editable, please visit and add your organization or, if needed, modify your existing record. The Database is the first resource released by Newsreel's forthcoming follow-up film to UNNATURAL CAUSES, AMERICAN BIRTHRIGHT.

New Studies and Reports

Place Matters: MTO Study Spurs Calls for Housing Reforms
Civil Rights and housing advocates are urging HUD to reform its Section 8 housing program in the wake of a Moving to Opportunity (MTO) study released last month in the New England Journal of Medicine which shows significant reductions in obesity and diabetes for women given the chance to move from high poverty to low poverty neighborhoods.

Shattered Families

"Shattered Families", a report by The Applied Research Center, is the first national investigation of how families are torn apart when immigration enforcement meets the child welfare system. What happens when children in foster care are prevented from uniting with their detained or deported parents? Why isn't the child welfare system doing more to reunify these families?
Life Expectancy Olympics, US Falls Again
Average U.S. life expectancy has now fallen to 34th place. At 78.5 years, we're now behind Denmark, Chile, Cuba and Costa Rica among others according to the 2011 Human Development Report of the United Nations Development Programme (UNDP). Thanks to Stephen Bezruchka, MD for originating the Health Olympics!
---
ABOUT US
UNNATURAL CAUSES was produced by California Newsreel in association with Vital Pictures, Inc. California Newsreel is the oldest non-profit documentary production and distribution center in the country, now celebrating its 41st anniversary.
California Newsreel runs a free online preview series every month. Visit www.newsreel.org to watch the entire award-winning documentary Faubourg Treme: the Untold Story of Black New Orleans for free!
For more information on our extensive collections of acclaimed DVDs, click on the links below or visit us at www.newsreel.org.
SEND TO A FRIEND

Encourage your friends and colleagues to sign up for our newsletter to keep up to date on new health equity resources and initiatives.